"AGRISS" Ltd. tenders high quality barn-laid eggs.
Our eggs are produced with guaranteed quality and control, sorted out and packed in conformity with the European standards.
Taking special care of our poultry is our guarantee of quality:
Feeding the poultry with compounded fodder of our own produce is a quality and control guarantee;
Poultry breeding on an area of 120 decares in a modernized farm certified for humane treatment to layers;
The eggs are collected daily and they directly enter the sorting machine following a particular line.
The eggs are qualified, sorted, stamped and packed by a sorting machine of latest generation technology, which is equipped with an electronic egg tester and egg blood detector;
The eggs are packed in cartons of 6, 10, 18 and 180 and pallets of 9,000 and 10,800 eggs.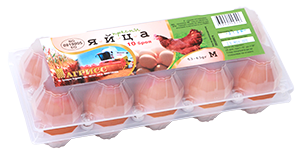 Nutritional value of eggs

Bird eggs have been valuable foodstuffs since prehistory in both hunting societies and more recent cultures where birds were domesticated for the first time. An Egyptian pyramid, built in 1420 BC, shows a depiction of a man carrying bowls of ostrich eggs and pelican eggs. In ancient Rome, eggs were preserved using a number of methods and meals often started with an egg course. Eggs scrambled with acidic juices were popular in France in the XVII century. The dried egg industry developed in the XIX century, before the rise of the frozen egg industry. The production of dried eggs significantly expanded during World War II for use by the United States Armed Forces and its allies.
The egg consists of three main parts: eggshell, egg white and yolk. The greatest relative weight is that of the yolk – about 50%.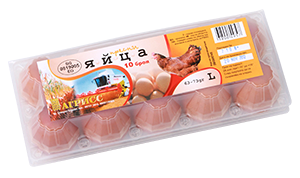 Egg shell consists of calcium and magnesium carbonates, phosphates, etc. There are between 100-150 pores on 1 sq.cm of the eggshell. The shell lining is over the egg shell and it protects the egg shell from quick evaporation of water. Egg white in turn is surrounded by two shell membranes: inner and outer membranes. A sac of air is formed at the bottom of the shell in the area between the shell and the membrane.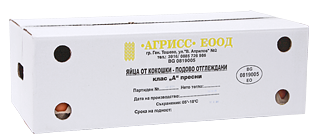 The primary natural purpose of egg white is to protect the yolk and provide additional nutrition for the growth of the embryo. Egg white consists of about 85-90% water, 10% proteins and less than 1% of carbohydrates, fat and mineral substances. Fats in egg white are mainly polyunsaturated and that is the reason they are healthy. Proteins, consisting egg white, are conalbumin, ovalbumin etc.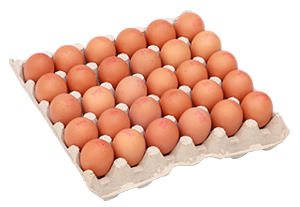 Yolk is the most valuable nutritional part of the egg. It feeds the developing embryo. It consists of vitelline membrane, yolk sphere, consisting in turn of yellow and white yolk and embryo. Water is about half of the yolk contents. Yolk is a major source of the vitamins A, D and E. Yolk, in contrast to egg white, contains cholesterol.
Nutritional value of eggs
The listed figures refer to a chicken egg whole, hard-boiled
| | | | |
| --- | --- | --- | --- |
| Nutritional value | whole egg | white | yolk |
| Energy (kcal) | 75 | 17 | 59 |
| Protein (g) | 6.25 | 3.52 | 2.78 |
| Total fat (g) | 5.01 | 0 | 5.12 |
| Total carbohydrates (g) | 0.6 | 0.3 | 0 .3 |
| Butyric acids (g) | 4.33 | 0 | 4.33 |
| Saturated fats (g) | 1.55 | 0 | 1.55 |
| Monosaturated fat (g) | 1.91 | 0 | 1.91 |
| Polysaturated fat (g) | 0.68 | 0 | 0.68 |
| Cholesterol (mg) | 213 | 0 | 213 |
| Thiamine (mg) | 0.031 | 0.002 | 0.028 |
| Riboflavin (mg) | 0.254 | 0.151 | 0.103 |
| Niacin (mg) | 0.036 | 0.031 | 0.005 |
| Vitamin B6 (mg) | 0.070 | 0.001 | 0.0069 |
| Folic acid (mcg | 23.5 | 1.0 | 22.5 |
| Vitamin B12 (mcg) | 0.50 | 0.07 | 0.43 |
| Vitamin A (IU) | 317.5 | 0 | 317 |
| Vitamin E (mg) | 0.70 | 0 | 0.70 |
| Vitamin D (IU) | 24.5 | 0 | 24.5 |
| Choline (mg) | 215.1 | 0.42 | 214.6 |
| Betaine (mcg) | 9.98 | 2.34 | 7.58 |
| Calcium, Ca (mg) | 25 | 2 | 23 |
| Iron, Fe (mg) | 0.72 | 0.01 | 0.59 |
| Magnesium, Mg (mg) | 5 | 4 | 1 |
| Copper, Cu (mg) | 0.007 | 0.002 | 0.004 |
| Iodine, I (mg) | 0.024 | 0.001 | 0.022 |
| Zinc, Zn (mg) | 0.55 | 0 | 0.52 |
| Sodium, Na (mg) | 63 | 55 | 7 |
| Manganese, Mn (mg) | 0.012 | 0.001 | 0.012 |